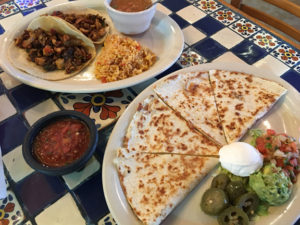 At the end of a long week, when San Antonians are looking for comfort food, it's not chicken noodle soup they are craving, it's a top-shelf margarita, chips and queso and a sizzling plate of fajitas. Tomatillos Cafe y Cantina, 3210 Broadway, delivers those and much more. There are Mexican food restaurants in every San Antonio neighborhood, but only a few stand the test of time, attaining legendary status. Tomatillos is certainly one of those SA Tex-Mex legends. For almost 30 years, Tomatillos has served up great times, good food and excellent service. Here are a few tips for your next visit.
Your first order of business is to settle in and assess the chip/salsa situation. There's plenty of both, and the salsa is fresh, and the chips are warm. To complement the complimentary chips and salsa, order up a bowl of queso, and, yes, you want to add the taco meat. Remember, this is comfort food! Consider some of the other appetizer options like guacamole made tableside or the stuffed jalapeños. Their chicken quesadillas are excellent, a go-to order if you have kids, but get extra because you will be eating off their plate. The margarita menu is extensive, and they offer a few standard beers on tap and plenty of bottle options. The wine selection is limited, but seriously, wine and Tex-Mex?
There's a lot of choices on the menu, so keep a few things in mind as you make your selection. The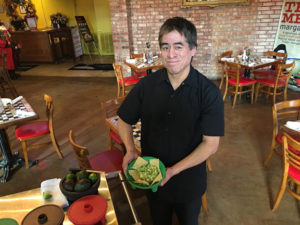 food is fresh, they make tortillas in house, and almost every dish can be customized.  There are plenty of salad options if you are so inclined, but the good stuff is a little less on the lighter side. The shredded chicken enchiladas are one of the stars of the menu, covered in a fresh, flavorful, vibrant green tangy cream sauce with just the right amount of spice. The fajitas are well seasoned and served on a sizzling skillet with all the toppings included.
Choose from several combination platters to try different flavors, or go for something completely different like the Tacos Albanil, homemade corn tortillas filled with chorizo, bacon, bell peppers, onions and beef and chicken fajita meat. Upgrade your order with the borracho beans, a litmus test for any Tex-Mex spot. Theirs are on point. Tomatillos offers plenty of desserts to choose from, or you just might want to end with a cheese course — no shame in one more bowl of queso.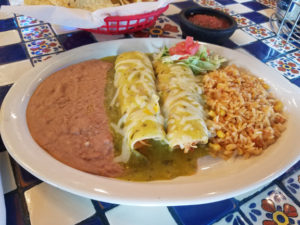 Tomatillos is a great spot for a large group of friends, office parties or special occasions. They have two separate rooms that can accommodate parties from 20 to 140. There's plenty of seating, and the festive atmosphere makes it perfect for families with small children. The wait staff is highly attentive and will make sure to seat you quickly. Take a few extra minutes with the extensive menu and consider trying something new. Venture out to find a new favorite — the fajitas will always be there along with many other Tex-Mex standards. The next time you need a night out with friends to enjoy some of San Antonio's best comfort food.
BY SCOTT AUSTIN